Weather affects practically every consumer purchase decision; the food we eat, the clothes we wear, what car we drive and even what type of house we buy can all be determined by fluctuations in weather. Understanding this relationship can be a recipe for increased engagement for both brands and performance marketers.
What is weather-based marketing?
Weather-based marketing is a form of marketing automation that utilises real-time data to trigger ads based on the current weather of a geographical location. On the most basic level, weather affects what channels consumers use to make purchases. For instance, during warm and sunny days, physical stores and high streets often enjoy more footfall, whereas during periods of inclement weather, traffic to online eCommerce sites increases. However, much is dependent on seasonality, industry and product.
Turn weather into sales
The main principle of converting weather into sales is to adapt your marketing strategy depending on the weather. Cafés, for example, can promote an extra hot latte on a cold day and an iced frappuccino when it's a hot summer's day, Uber Eats and Deliveroo can ramp up their advertising spend when the weather is terrible as they hit peak demand.
A great example of a well-executed heat-sensitive promotion can be found in McDonald's 2015 campaign when the temperature reached a record-breaking 38.7 degrees. A display panel with 100 free McFlurry cups automatically opened. It was an excellent way to raise brand awareness and get people (even those that didn't get a free cup) thinking just how refreshing a cup of McFlurry is on a scorching day.
Tesco and other supermarkets also use data science and complex modelling to reposition and adjust stock levels based on local and national weather forecasts, both short and long-term.
As weather forecasts data is updated every 15 minutes, you can target local consumers depending on their location and corresponding weather condition. You can also create custom banners for your ad to match the weather. Weather sensitive campaigns can be utilised across all channels, including social media, websites and emails. For example, Weather Unlocked made use of Facebook Ads targeted at residents of a city during its sunny season.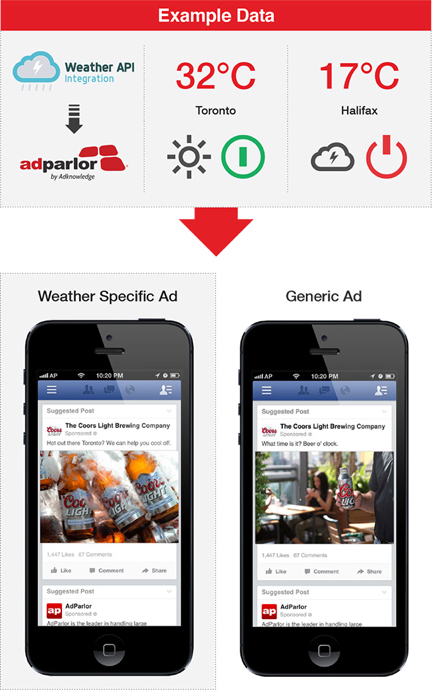 Unlike trends that fluctuate weekly, if not daily, the influence of weather on consumer behaviour is constant. Brands have marketing strategies for different seasons but for daily weather changes, it's ideal to invest in weather specific marketing campaigns to fully optimise your strategy, and turn weather into sales.
With the flexibility that online sales channels provide, through optimisation and algorithms, eCommerce brands can pivot at pace to meet changing customer demand driven by the weather. So if you sell garden games, spirits or cocktail mixers, or even swimming pool chlorine tablets, you'll have all the tools at your disposal so you don't miss out on a sales heatwave.
At Huboo, it's easy to get started on your fulfilment journey, just click here to begin.