Why Australian Business will thrive in the UK after New Trade Deal
Posted on January 11, 2022
How will the New Australia-UK Free Trade Agreement Help Aussie Businesses in the UK?
On December 17th 2021, The Department for International Trade (DIT) negotiated a free trade agreement (FTA) between the United Kingdom and Australia; the UK's first trade deal since leaving the EU.
What is the New Trade Deal?
Known as the Australia-United Kingdom Free Trade Agreement (A-UKFTA), this gold standard arrangement is a historic moment for relations between the two countries. It will strengthen diversification and allow for mutually beneficial business opportunities, during a time when the global economy recovers from the Covid-19 pandemic.
A-UKFTA will also make the process of exporting and importing between the two countries more simplistic; addressing issues related to health and safety, environmental concerns, and business discrimination.
The Removal of Tariffs
The removal of tariffs for nearly all goods is the key change that will benefit the bilateral trade relationship between the two nations. A list of the key changes:
Tariffs will be removed on almost 100% of Australian exports.
Timeframes for the clearance of goods at customs will be more prompt to give greater reassurance to exporters.
There will be a reduction in costs and red tape to ensure the origin of goods can be easily proven by traders.
Vigilant new laws against unfair competition practices and trade corruption will be introduced.
The establishment of a fair, committed agreement to preventing trade barriers that cause business discrimination will be made.
Australian exporters, including SMEs and Indigenous-owned businesses, will have increased rights for bidding on UK government goods, services, and construction contracts.
Procurement notices will be produced electronically and free of charge, so that all goods providers are privy to the same sourcing opportunities.
Clearer insights will be provided into trade and investment rules to reduce UK trading administrative costs.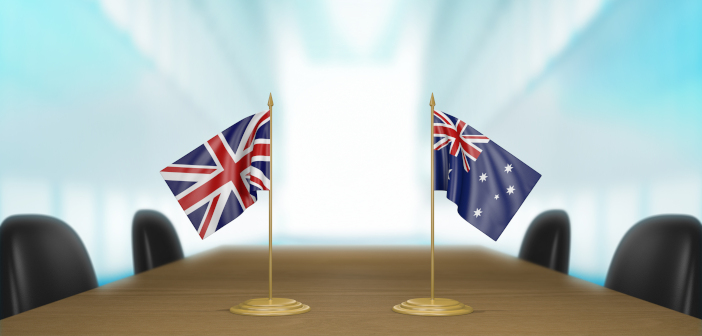 Customs Support
A-UK FTA will make the process of confirming the origin of goods much simpler, for both traders and customs professionals alike. It will also reduce the amount of documentation required at border controls, allowing for faster and more effective global distribution.
The timeframes for goods being released from customs are to be made clearer, helping establish better communication and providing assurances to all businesses within the supply chain. The proposed timeframe for goods assessments will be within two days of arrival at customs, with shorter periods for perishable goods.
Encouraging Innovation
A-UKFTA will enhance Australian business innovation through a dialogue of strategic innovation with the UK intended to encourage the formation of new, cutting-edge technologies. These advancements will assist supply chain stability for vital industries, such as goods and services associated with the Health, Energy, and Agricultural sectors.
This innovative approach will also help stimulate economic growth by providing better productivity, enhancing global investment, and championing competition within innovative tech industries.
Digital Trade
Digital trade will also benefit greatly from A-UKFTA. The legislation will facilitate online co-operation by making revisions to current digital practices that are often considered restrictive. One key change will be that paper-based trade documentation will be no longer take priority over digital; with guarantees of support for electronic contracts being considered as binding agreements.
To ensure Australia and the UK abide by the international rules for electronic transactions, custom-built digital frameworks will be introduced to support this agenda, along with a mutual agreement not to place customs duties on the sale of electronic goods.
Australian Business Equality
As part of the new trade deal, Australians will have the same access to the UK's lucrative jobs market that their European competitors have already. This adjustment means that Australian businesses seeking professionals for employment can now compete fairly in the UK market and against their EU competitors, for the first time in over forty years.
This financially profitable exchange will also have a positive effect on Australian businesses and society in general, as the overall savings made each year will be well over $200 million.
Which Specific Australian Products Will See Changes?
In the long-run, most Australian industries will benefit from the trade agreement. However, there are several key manufacturing areas that will see swift changes, especially within the Food and Drink and Industrial sectors. Details of the items that will see adjustments once A-UKFTA comes into force are listed below:
Food & Drink
Wine – The wine industry will see a complete elimination of all tariffs for any alcoholic wine product.
Meat – Beef and sheep meat tariffs will be removed after 10 years, with access to duty free transitional quotas immediately available.
Rice – All short and medium grain milled-rice products will have their tariffs removed. Broken rice tariffs will be eliminated over a four-year period, with immediate access to duty-free transitional quotas allowed.
Dairy products – The elimination of all dairy tariffs will be implemented over five years, with immediate access to duty-free quotas available during this period.
Sugar – Gradual elimination of sugar tariffs will be made over eight years, with immediate access to a duty-free quota during this transition period.
Honey– The trade of honey will see an immediate 16% tariff removal once A-UKFTA takes effect.
Fresh Produce – Tariffs on nearly all fruits and vegetables will see immediate removal.
Processed foods – Most processed foods will see a complete removal of tariffs.
Wheat – Along with Barley and other cereal ingredients, wheat-based items will see a complete elimination of tariffs over four years. Duty-free quotas are immediately available to businesses making shipments of up to 80,000 tonnes of wheat and 7,000 tonnes of barley each year.
Other areas expected to see tariffs phased out in the coming years include confectionery goods and alcohol like whiskey.
Industrial Products
The elimination of tariffs on all industrial goods of Australian origin will be implemented immediately.
Only goods from products that contain ammonia and aluminium will be exempt from this. They will instead see a tariff removal of up to 6% over a three-year period once A-UKFTA begins.
Benefits For Small & Medium Businesses
The new trade agreement is particularly lucrative for small and medium-sized Australian enterprises that are looking to break into the UK market. Both the UK and Australia will grant access to information which assists investment trade and investment opportunities between the two countries. This will support equal international trade for all SMEs, including businesses that employ indigenous people in a position of leadership.
Any Australian business looking to begin trading, or are already trading, in the UK will benefit from the support of an expert 3PL and logistics company like Huboo.
We are experts in the fulfilment of a range of goods being exported from Australian businesses to UK retailers. We are up-to-date with all the latest changes across the international eCommerce landscape, and will ensure your stock is stored, packed, and shipped in accordance with A-UKFTA rules and regulations.
Get in touch today to find out how we can help your business.
For more information regarding the new rules, you can visit the GOV website.